Cristiano Ronaldo: Qatar could be the best World Cup ever
Cristiano Ronaldo has revealed what he thinks would be a dream final as he prepares to tackle his fifth World Cup tournament with Portugal in Qatar.
Ronaldo, 37, Official Global Ambassador for LiveScore, is also relishing the prospect of playing a major competition in mid-season and is eyeing a special goalscoring record set by legendary Portugal striker Eusebio.
A winter World Cup
Speaking exclusively to LiveScore about preparations for the global showpiece, which kicks off on Sunday, the Portugal captain said: "The feeling is good.
"It will be different to play this kind of competition at the end of a year. It's interesting, it's a new challenge.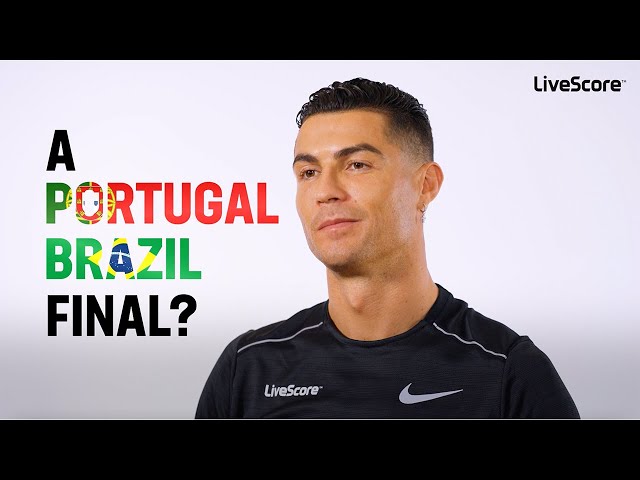 "I'm looking forward to it, as are my team-mates and the other players I've spoken to. They're all excited and I'm excited.
"It will be my fifth World Cup and I'm really grateful for the chance to play in another."
Dreaming of Portugal in the final
Ronaldo captained the Seleção to their first major trophy success at Euro 2016 and three years later lifted silverware again as Portugal beat Netherlands 1-0 in the inaugural Nations League final.
The five-time Ballon d'Or winner is now targeting a first World Cup final appearance and has shared his dream with a former Real Madrid team-mate who has now followed him to Manchester United.
Ronaldo said: "I joked with Casemiro that the final will be Portugal against Brazil. It would be a dream, to be honest.
"The World Cup is the most difficult competition in the world. I'm dreaming of it.
"I know it will be tough, it will be difficult, but dreaming is free and I'm dreaming all the time.
"The most important thing is to be there and to compete. In my opinion it will probably be the best World Cup ever. Let's see."
Chasing Eusebio's record
Portugal face Ghana in their opening Group H game on November 24, providing Ronaldo with the opportunity to add to the seven goals he has scored during four World Cups.
Two more strikes in Qatar would see him draw level with Eusebio, who collected all nine of his World Cup goals for Portugal while becoming the top scorer at the 1966 tournament.
Considering the possibility of beating the tally of one of the greatest players of all time, Ronaldo said: "It's a good challenge. I have a lot of respect for Eusebio.
"All Portuguese football fans keep him in their hearts. He was an unbelievable person.
"But if I have the opportunity and if I have the chance, I think Eusebio will be happy in the sky and will be wishing me luck to beat his own record."
Handling the heat
Ronaldo is known the world over for his dedication to health and fitness and is not fazed by swapping the winter temperatures of England in November for the humid highs of Qatar.
He said: "The weather for me will not be an issue. We are prepared.
"As professional football players we are capable of playing in all conditions. It will be good because I prefer warm weather, so it's not going to be a huge problem for me.
"I hope that it will be the best World Cup ever. I believe in that."
Players based at European clubs will have had just three months of competitive football when the tournament gets underway and should be relatively fresh, as opposed to competing in a major finals at the end of an arduous season.
Ronaldo added: "To have this competition at the beginning of a season is different.
"In terms of physicality, all the teams will be fit. Younger players, older players, I think everyone will be in good shape."
The key to success for Portugal
While drawing on the experience of Ronaldo that day alongside Bruno Fernandes, 28, the Manchester United pair lined up with the likes of Old Trafford right-back Diogo Dalot, 23, and AC Milan's young forward Rafael Leão, also 23.
Ronaldo said: "It's good to be part of the national team with a mix of young players and more mature players.
"This make-up is part of the best teams in the world. It's a good thing to have different ages, different characters, different opinions, different approaches of the philosophy of game.
"In terms of the Portugal national team, I think we have a good team, a good coach.
"We have a combination of young and mature players so it will be an interesting competition."