In Focus: Granit solid as a rock for in-form Gunners
In an Arsenal team full of young and exciting players, Granit Xhaka is turning into an unlikely fan favourite.
Six years after signing for the Gunners, the 30-year-old is beginning to look every inch a top-class Premier League midfielder.
Ahead of tonight's Europa League clash with Bodo/Glimt, we look at how Xhaka has turned his Arsenal career around.
Arteta's backing
Xhaka has continued to be a regular ever since Mikel Arteta was appointed in December 2019.
Even though Xhaka had his heart set on leaving the Emirates, the Spaniard managed to convince the midfielder to stay.
Two years ago, Arteta said: "I wanted him to hear from me my opinion on him, and that I was ready to support him and that I was ready to push the club to be supportive of him too, because I thought he could be a really, really good player for us and he could enjoy playing under me in this football club.
"I tried to convince him that way. He thought about it, he had a very positive response afterwards, and I think he changed his mind."
Preferred position
When a 23-year-old Xhaka moved from Borussia Monchengladbach to Arsenal back in 2016, he did so as a box-to-box midfielder.
But until Thomas Partey was played alongside him, he was more often than not used as a deep-lying one.
Arteta has changed that in the past 12 months and Xhaka's performances, driving Arsenal forward and being much more involved in their attacking play, have improved greatly.
He has already scored or assisted five times in the league, more than he managed in each of his past three seasons.
And a player known for moments of madness is committing just 0.63 fouls per 90 minutes this term.
Repairing relationship
That is why just three years after he was booed off the pitch when subbed against Crystal Palace, Xhaka's name is now being sung by Arsenal fans.
After its first airing at Bournemouth, Xhaka said: "It was an absolutely amazing, amazing feeling for me, because everybody knows what I went through with the fans. That's in the past now."
In last month's club Player of the Month poll, Xhaka received 83% of votes from the Gunners faithful to win it.
Gone are the days of the awkward relationship between supporters who wanted him out and a player who knew it.
Still a leader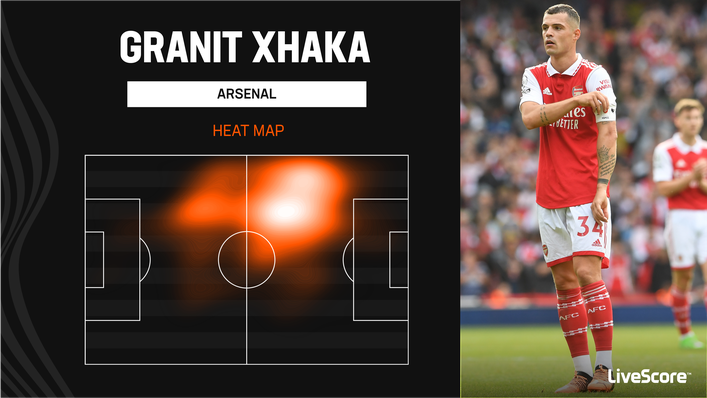 Following the incident against Palace when he threw his shirt to the ground and stormed down the tunnel, Xhaka was stripped of the captaincy.
While managers liked his leadership qualities, the fans saw an ill-disciplined player and were thrilled to see the armband taken off him.
Martin Odegaard is the current club captain yet footage in Arsenal's recent All or Nothing documentary shows Xhaka still has a very vocal presence in the dressing room.
"I believe that you are born with a winning mentality or as a leader. I don't believe that you can become that later, I think it's within you. You either have it or you don't have it," he said.
"I like to have this feeling, because without challenges and these objectives in front of you, I don't believe you can achieve anything. This is how I've played all my whole career, and it's how I've lived my life too."
No slowing down
Xhaka is a determined individual and he will be only too aware that neither he nor the rest of the club can rest on their laurels.
He said: "We can improve and that's the good thing, we can see those improvements. It's always good when you can get better, and I have a good feeling that we are on the right way with that.
"The most important thing now is keeping our focus day by day, keep working and afterwards let's see how far it takes us."
He knows that if his level drops, the criticism will return, and if Arsenal's does, it will be a battle for the top four, not the title.
But do not bet on that happening now Xhaka is playing in his best role for the Gunners.