Man storms mall with giant robot he built, people gather to watch robot dance
A Nigerian man has gotten a lot of people talking after a video popped up where the man stormed a shopping mall with a giant robot.
In the video that was shared online, the robot was seen moving its body to a song that was being played. The crowd gathered was heard in the background cheering.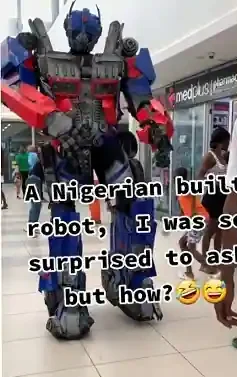 The video was shared by @odmbi on his TikTok page and has been applauded by many for its creativity.
Read some comments below.
@Obina  commented, "Our government nor empower people like this they will always take our resources to carry asawo and build mansions for them."
@cvarara said: "I salute you brother for your creativity, Africa is my home. If we can be united as Africans we can do more."
@user693864193003 said: "Nigerians have the gung ho Spirit but a section of the country that believes they own the country is drawing us backward."
@zacks764 reacted: "I think I like this version better. Don't give away the secret bro!"
@christinaogiamien noted: "Nigerian are very intelligent and smart all that they need is good leadership that will believe in their efforts and its own citizens." 
Watch the video below…