"Shege-A-Thon" – Paul Okoye says in reaction to new fuel price, Nigerians lament
Popular singer and songwriter, Paul Okoye a.k.a Rudeboy reacts as new fuel price climbs N617 per litre across Nigeria.
Earlier yesterday July 18th, NNPCL had made the announcement of adjustment of the pump price of petrol from N539 per litre to N617 per litre, explaining that this had to be done in response to market realities.
Paul Okoye reacts to petrol price
The veteran musician took to social media to express the harsh reality of the situation by linking it to curren "Thon" frenzy.
According to him, citizens are currently going through a "Shege-A-Thon".
See his post below…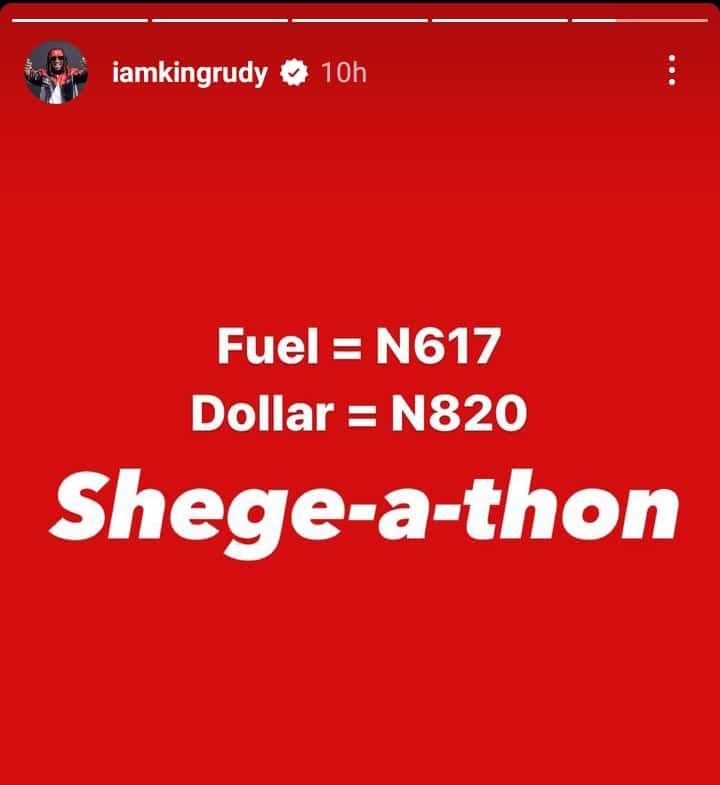 Reactions trailing the post…
One papi_demillie reacted: "Every aspirants for this last election said they will remove fuel subsidy. The candidate who won, removed it. Now you wanna start to hamstring him? If your favorite and he removed the subsidy also, and fuel climbs as it will, will they have same energy for this post or possible solicit that things will def get better. Removing fuel subsidy and removing multilateral exchange rate is the best thing that has ever happened in Nigeria in a long time. The benefits outweighs the demerits on the long run. What we should keep advocating for is quick start of local refinery, better security, more investors coming and commensurate wage scale. Not all these kids brain in adult body post like this."
akubueze_nwachereze said: "Someone said they voted Muslim/Muslim ticket to show us Christains that they own the country, my question now is I hope they are enjoying their Muslim/Muslim fuel?"
ngo_dork1 wrote: "It took me 2 days to get my pvc done and a full day to collect it , I voted under rain still went round the area to check who was winning a day to election I prayed all through still prayed all through after election send transport to some students to come vote , and made the right choice but I was robbed by some groups of wicked people may not suffer for what I did not support IJN Amen"
iam_bmodel wrote: "I no dey hear Tinubu supporters again, all of them don enter house. Nah all of us dey see the shege together. Igbo, Hausa or Yoruba. They thought the man had plan when he was busy arresting CBN governor and signing things into law. This one nah Shege Banza"
oshhhh.media stated: "Fuel is officially the same price in Nigeria and in US (Texas ) with Nigeria being slightly higher. But guess what the daily minimum wage, mind you na minimum I talk oh . The daily minimum wage is 100 dollars a day for someone that works the lowest , which is 82000 naira a day. Graduates in Nigeria are still struggling to get a job that gives 5000 a day which is less than 10 dollars . Talkless of minimum wage workers in Nigeria that earn 1000 a day which is less than 2 dollars. Tueh !. And una still dey catch cruise . Mumu nation"