Tacha mocks BBNaija over 'second chance' in All Stars show
Big Brother Naija 'Pepper Dem' ex-housemate, Tacha Akide takes a swipe at the show's organizers regarding a 'second chance' for previous housemates in the All Stars edition.
This comes amidst the promotion for the upcoming edition of the show where ex-housemates of the show get a chance to win a grand prize of N120M.
Disqualified housemate of BBNaija 'Pepper Dem' show
Tacha, who was disqualified during her time on the show, leaves a comment on the BBNaija 'All Stars' edition promotion by the show organizers.
"Some of your faves didn't really have a chance before. Here is to second chances," the tweet from DStv Nigeria stated.
In response, Tacha cleverly referenced the popular Telenovela movie, Second Chance, to express her criticism of the announcement
"Second Chance ko El Salvador ni," she wrote in a quote to the organizers' tweet.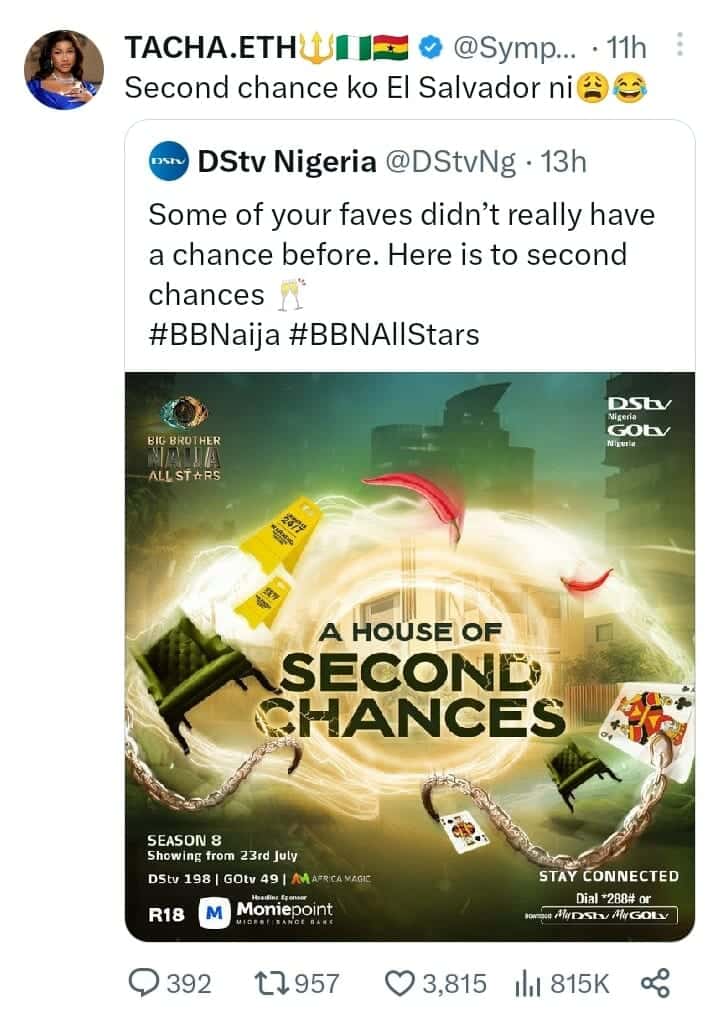 Reactions trailing savage reply of Tacha to BBNaija All Stars
mhizgolden19 stated: "Rest in Jesus name scince u are not going,live the second chance what ever to go, why are u stil pain until now na wa oh"
Olurops added: "This madam is pained because multi choice did not pick her."
bigHotbaby1 penned: "There's nothing like second chance in All stars. Big brother celebrity or All star is for big stars that are entertaining. Hope we get to see them on Sunday"
Sir_Adele penned: "They made you Tacha, pay some respect"
splendidsylvia1 opined: "Tacha u still pained over multichoice"
Just__Halal said: "He con be like show for housemates way never make am"